October 27, 2015 10:56 am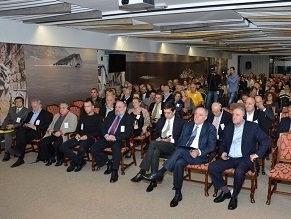 Representatives of the Jewish community in Doboj participated on Regional Seminar of Jewish Communities In Montenegro here are some news about the conference:
On October 22, 2015, the "Mahar 2015" Seminar for Jewish communities of the Balkan region began in the city of Petrovac (Montenegro). The seminar is taking place through the continued initiative of the President of the Montenegro Jewish community, Euro-Asian Jewish Congress (EAJC) General Council member Jasa Alfandari.
Approximately 400 members of Jewish communities, includng representatives of Serbia, Albania, Macedonia, Hungary, Bosnia and Herzegovina, Croatia, Kosovo, and Montenegro. The EAJC is the main sponsor of the seminar and also an active participant. EAJC representatives at the seminar include EAJC Secretary General Michael Chlenov, EAJC General Council Chairman Josef Zissels, Program Coordinator Kirill Danilchenko. The Jewish communities of Serbia, Slovenia, Macedonia, Montenegro and Albania are EAJC members, and their leaders are members of the EAJC General Council. Representatives of the World Jewish Congress (WJC) are also participating in the seminar, including CEO Robert Singer, European office representative Myriam Glikerman, and Community Security Advisor Omri Segelman.
On October 23, EAJC leaders Michael Chlenov and Josef Zissels met with the leaders and representatives of the Jewish communities of Serbia, Kosovo, and Croatia.
On October 24, Michael Chlenov spoke at the panel "How Europe Has Changed" together with the keynote speaker, Dr. Shimon Samuel, Director for International Relations at the Simon Wiesenthal Center.
Article taken from the http://eajc.org/en/