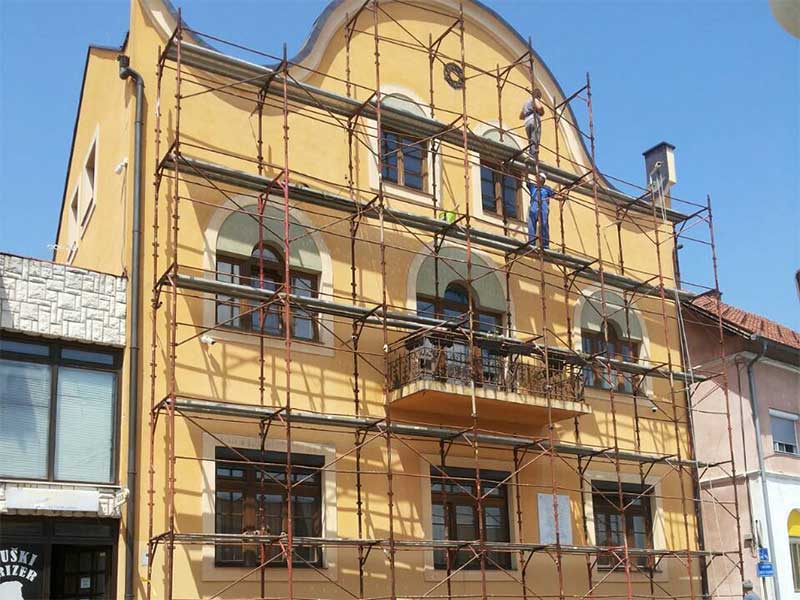 We want to draw attention to a new crowd-funding campaign launched by the local Jewish community in Doboj, Bosnia-Herzegovina, to help repair and repaint the exterior of their synagogue.
The target amount being raised is modest — €3,000 — and will go toward the second phase of painting and roof repair.
The building was opened in 2003, the first synagogue built in B-H since World War II, and serves as a synagogue and community center for the tiny community of around 40 members.
Dario Atijas, the vice president of the community, writes to JHE that damage to the exterior came from antisemitic graffiti scrawled in 2009 and 2010, as well as from a major flood that hit the city in 2014, when the synagogue was used as a temporary emergency aid installation and shelter for local people.
Weather conditions damaged the roof, where many tiles were broken, leading to water leakage and infiltration, causing damage to the interior of the building. The community got some government assistance to disinfect and repaint the interior after the flood emergency, but the exterior work remains — total painting estimated to amount to €6,000, with another €2,000 for roof repair.
Last year, the municipality and Ministry of Culture gave a one-time grant of €3,000.
Atijas writes:
We have started works and it was enough to cover only half of the building. This year we want to continue with the replacement of around 100 roof tiles and continue painting the other half of the building, as well carrying out yard works.
To find out more specifics and how to donate, please contact Atijas directly:
Email — jodoboj1874@yahoo.com
Tel/fax — +387 65441288