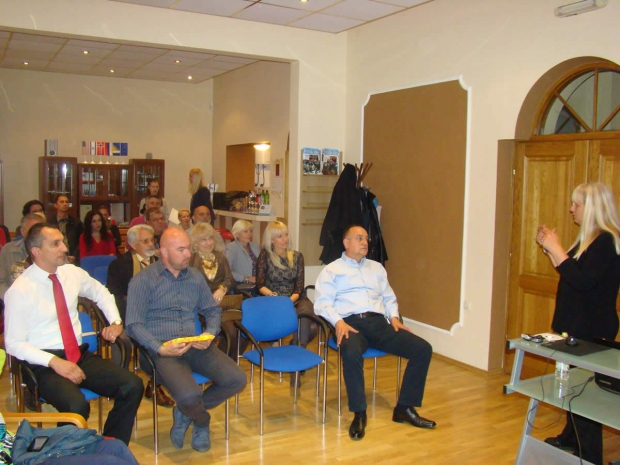 Jasna Ciric, president of the Jewish Community Niš, gave a lecture and presented a film in which she pointed to former existence of Jewish communities in ex Yugoslavia and tried to break away from the oblivion of their history and cultural heritage. The event took place in The Jewish Cultural Center in Doboj.
Research work of Jasna Ciric called "Thus I work," is focused on smaller towns in Serbia, Republic of Srpska, and Bosnia and Herzegovina, where after the Second World War were "no or almost no Jews". The research includes work in a museum, archive, cadastre, interviews, making family trees, documenting cemeteries, synagogues, making the list of the victims and all that what was left of the physical evidence that the Jews once lived there. The final result of that work is the restitution of Jewish buildings and putting up a memorial plaques as a reminder of the Jews, former neighbors who are no longer with us. During lectures Jasna Ciric pointed to apparent indifference of the local authorities in these activities.
Documentary film "The story of the Mandil family" was shown. The film is based on a true story about the suffering of the Mandil family from Nis through confession of Đilda Kabiljo Mandil, who with her mother managed to survive the horrors of the Second World War. The film was made for Jewish Cultural Institute, based in Vienna, and the lecture was followed by authentic photographs from the fieldwork. The lecture, which was held last night at the Jewish Cultural Center in Doboj, in addition to numerous guests, also attended the Head of the Republic Secretariat of Faith, Mr. Dragan Davidovic.